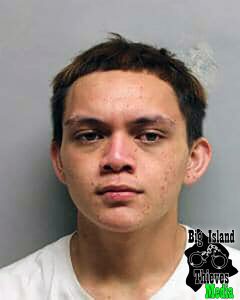 Prosecuting Attorney Kelden Waltjen announced that a Na'alehu man, 19 year-old Isaiah Smith was charged with hindering prosecution of alleged car thief, Nathanuel Chow-Guzman, and misdemeanor unauthorized entry into a motor vehicle and petty misdemeanor theft offenses.
As the Complaint alleges, Smith was charged with Hindering Prosecution in the First Degree (render assistance to another person to hinder the apprehension, prosecution, or conviction of another person for a felony), Unauthorized Entry into Motor Vehicle in the Second Degree (enter into a motor vehicle without being invited, licensed, or authorized), and Accomplice to Theft in the Fourth Degree (theft of property less than $250, a metal gate).
On Tuesday, Smith made his initial appearance in Hilo District Court. The Court maintained Smith's bail at $2,750.00 and ordered him to appear for his preliminary hearing on January 20th.
The felony investigation and arrest was coordinated by Officers Christopher Fukumoto, Michael Sailer, and Sheldon Adviento and Detectives Keith Simeona and John Balberde, Special Enforcement Unit, Area I Criminal Investigation Section, Hawai'i Police Department. The case is being prosecuted by Deputy Prosecuting Attorney Kevin Soong.
The charges are merely allegations, and the Defendant is presumed innocent unless and until proven guilty.
The Office of the Prosecuting Attorney remains dedicated to the pursuit of justice with integrity and commitment. Anyone having information to assist local law enforcement should call Crime Stoppers at (808) 961-8300.