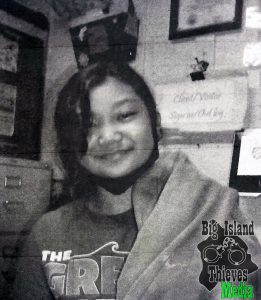 HPD seeks your help in locating a missing 12 year old Hilo girl Kailea Kekipi.
Kekipi is reported to be 4'11", 97 lbs, shoulder length black hair and brown eyes wearing a black long sleeved shirt and blue jeans. Last seen at the 1700 block of Kinoole St. Hilo, 01-19-22 at 9:00 P.M.
Kekipi was initially reported as a runaway but due to her age, she is considered endangered.
If you have information that can assist in helping safely locate Kailea Kekipi, please call 911 or contact the police dispatch.