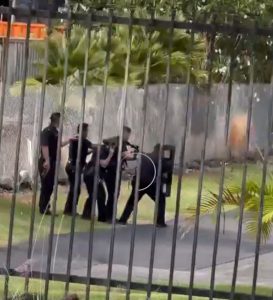 Detectives with Hawai'i Police Department's Area II Criminal Investigation Section launched a coroner's inquest investigation on Wednesday afternoon after officers responding to a trespassing incident at a storage rental facility in Kailua-Kona, determined that an unidentified man appeared to have taken his own life during the incident. 
Shortly after 1:45 p.m., on Wednesday November 15, 2023, Kona patrol officers responded to a storage rental property in the 73-5500 block of Maiau Street in Kailua-Kona for a request to remove a male from the facility. In the course of investigation, police learned that the man was living within a rented storage unit and had been evicted from the property.
Shortly after contacting the man, officers observed him go into the storage unit and then heard a loud noise consistent with a gunshot. Police secured the area and waited for additional units to arrive. After getting no further response from the man, officers checked the storage unit and observed the man alone with a traumatic head injury, consistent with a self-inflicted gunshot wound, and a rifle next to his body. The man's identity is being withheld pending positive identification and notification of next of kin.
Detectives with the Area II Criminal Investigation Section are continuing the investigation.
PC: @eisertjason