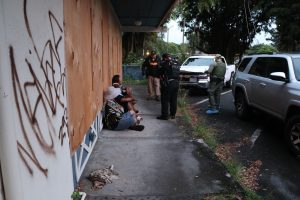 Governor Josh Green, M.D., signed a second Emergency Proclamation last Friday, regarding the former Uncle Billy's Hilo Bay Hotel. It extends the first disaster emergency relief period designated in the July 18, 2023, proclamation, until November 13, 2023.
A hazardous materials survey consultant indicated preliminary findings of suspected asbestos in the closed and dilapidated Uncle Billy's building. Contractors will be required to remediate hazardous materials prior to the demolition of the building.
Vegetation around the property has been cleared and a perimeter fence has been constructed. However, several breaches of the newly installed fence have already occurred requiring repairs by a contractor.
DLNR Chair Dawn Chang said, "We've asked people repeatedly not to enter or occupy the abandoned building for their own safety. That's even more important now that suspected asbestos has been discovered. We will have DLNR Division of Conservation and Resources Enforcement (DOCARE) officers begin an around-the-clock presence and patrols of the Uncle Billy's area to keep people out. For everyone's safety, we urge people to stay out of the building and to not expose themselves or first responders to the unsafe conditions there."
Several DLNR divisions remain in close collaboration with Hawai'i County to schedule and plan each phase of the demolition. Asbestos remediation is not expected to significantly delay previous timelines.
Specific details about what is covered during the emergency relief period are detailed in the second Emergency Proclamation.