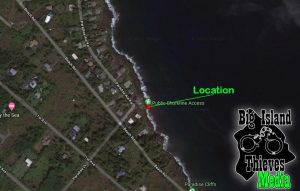 At 3:01 am this morning a call came into Hawaiian Paradise Park Fire station of a report of a fisherman who fell off a cliff at end of Paradise Drive.
HFD immediately dispatched for a high-angle rescue and seven units were assigned to his rescue with 12 personal responding in total. Upon arrival at 3:12 am, HFD found a 36-year-old who had fallen 30 feet down a cliff when a portion of the cliff had collapsed while the male party was fishing on it.
A high-angle rescue was executed as planned and the man was extricated. He was treated and transported to Hilo Medical Center where a full trauma team awaited his arrival. The Victum is reported in in critical condition with head and neck injuries.
There is no foul play suspected, and it was an unfortunate incident due to the unstable terrain that he was fishing from.
Police are reminding the public that even if you are familiar with the area to be cautious and aware of your surroundings and to make sure someone knows where you are at, or as in this case, have someone with you in case there is a mishap so they can call for help.