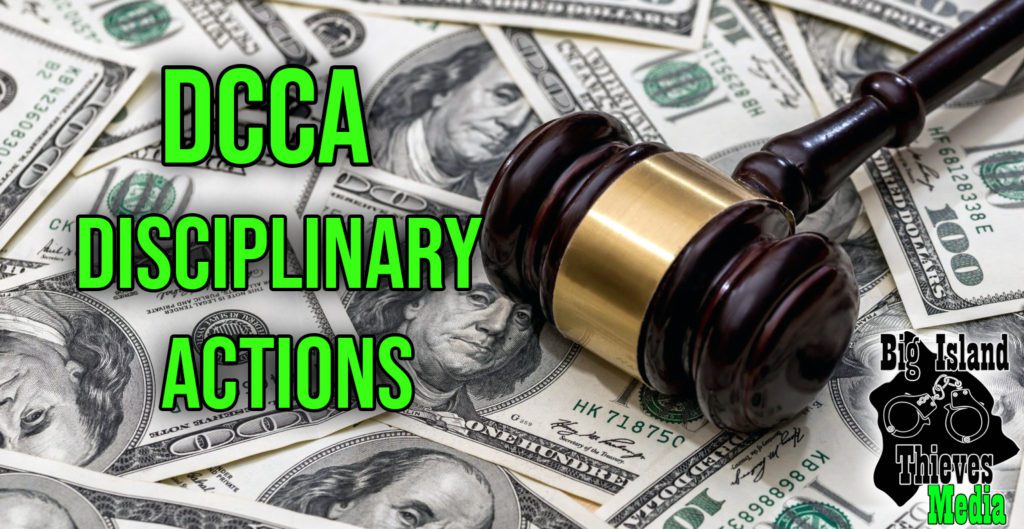 DCCA DISCIPLINARY ACTIONS
(Through December 2022)
HONOLULU – The state Department of Commerce and Consumer Affairs (DCCA) and the state Boards and Commissions released a summary of disciplinary actions through the month of December 2022 taken on individuals and entities with professional and vocational licenses in Hawaii. These disciplinary actions include dispositions based upon either the results of contested case hearings or settlement agreements submitted by the parties. Respondents enter into settlement agreements as a compromise of claims and to conserve on the expenses of proceeding with an administrative hearing.
The DCCA and the Boards and Commissions are responsible for ensuring those with professional and vocational licenses are performing up to the standards prescribed by state law.
MEDICAL BOARD
Respondent: Sarah J. Fryberger (Hawai'i)
Case Number: MED 2022-164-L
Sanction: $500 fine
Effective Date: 12-8-22
RICO alleges that during the 2020-2021 renewal period, Respondent did not complete the requisite continuing medical education classes, in potential violation of HRS § 453-8(a)(7) (Board approved Settlement Agreement.)
Respondent: Farhaad R. Riyaz
Case Number: MED 2022-159-L
Sanction: $1,000 fine, license probation for 3 years, upon completion must petition
Board to terminate probation
Effective Date: 12-9-22
RICO alleges on or about March 22, 2022, Respondent pled guilty to and was sentenced for, a felony charge of Mail Fraud, Criminal No. 1:21-cr-264-LMB, United States of America v. Farhaad Riyaz, and further alleges that based on the conviction, several states took disciplinary action against Respondent's licenses, all in potential violation of HRS §§ 453-8(a)(11) and 453-8(a)(12). (Board approved Settlement Agreement.)
Respondent: Michael J. Hall
Case Number: MED 2022-231-L
Sanction: $500 fine
Effective Date: 12-8-22
RICO alleges that Respondent was disciplined by the State of New York and failed to timely report the action to the Board, in potential violation of HRS § 453-8(a)(14). (Board approved Settlement Agreement.)
VETERINARY BOARD
Respondent: Kermit L. Ryff
Case Number: VET 2022-9-L
Sanction: $750 fine
Effective Date: 12-9-22
RICO alleges that Respondent was disciplined by the State of Colorado and failed to timely report the action to the Board, in potential violation of HRS §§ 471-10(b)(8) and 471-10(b)(11). (Board approved Settlement Agreement.)
BOARD OF PHARMACY
Respondent: Mall Pharmacy, Inc.
Case Number: PHA 2022-40-L and PHA 2022-52-L
Sanction: $1,000 fine
Effective Date: 12-15-22
RICO alleges that Respondent was disciplined by the States of Alabama and Idaho, in potential violation of HRS § 436B-19(13). (Board approved Settlement Agreement.)
Respondent: Timothy J. Walsh
Case Number: PHA 2022-36-L
Sanction: $1,000 fine
Effective Date: 12-15-22
RICO alleges that Respondent was disciplined by the State of California and failed to timely report the action to the Board, in potential violation of HRS §§ 436B-19(13) and 436B-19(15). (Board approved Settlement Agreement.)
Respondent: Wal Mart Stores East LP, dba Wal Mart Pharmacy 10-5315
Case Number: PHA 2022-79-L
Sanction: $750 fine
Effective Date: 12-15-22
RICO alleges that Respondent was disciplined by the State of Alabama and failed to timely report the action to the Board, in potential violation of HRS § 436B-19(15). (Board approved Settlement Agreement.)
REAL ESTATE COMMISSION
Respondent: Judith M. Anderson, dba Anderson Properties
Case Number: REC 2020-431-L
Sanction: $1,000 fine and closure of property management business by March 31, 2023
Effective Date: 12-19-22
On or about April 25, 2022, RICO filed a disciplinary action alleging Respondent violated HRS §§ 436B-19(8), 436B-19(17), 467-14(8) and 467-14(20) and HAR § 16-99-3(b). (Board approved Settlement Agreement.)
Copies of the decisions are available online at: http://cca.hawaii.gov/oah/oah_decisions/