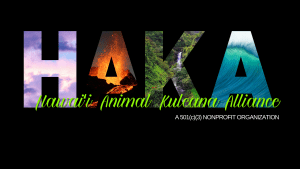 Keaau, Hawaii – The Hawaii Animal Kuleana Alliance (HAKA) recently distributed more than 10,000 pieces of linen to Hawai'i Island animal rescues, sanctuaries, and vets in an effort to provide much-needed supplies to these organizations and businesses. The distribution was made possible thanks to an extremely generous donation by Hilton Waikoloa Village.
The popular hotel recently did some spring cleaning as it welcomed back guests and began the process of fully reopening. The hotel is currently in the process of replacing all of its linens. Rather than add even more to the Island's overburdened waste facilities, Hilton Waikoloa Village General Manager Simon Amos reached out to Waikoloa animal rescue volunteer Tracy Peters. As a HAKA volunteer, she took the lead in making sure that the linens reached HAKA so that they could oversee the processing and distribution of this massive donation. HAKA was then able to deliver multiple bags of linens to various animal-serving organizations and businesses across the Island.
"Partnerships like these are so critical right now for our Island animals, and we are so grateful that Mr. Amos and Hilton Waikoloa Village were able to provide this donation that can be used Island-wide by rescues and vets. With things currently in flux with Hawai'I County animal control, we'd love to see more private donors step up to support the organizations who are currently providing a safety net for the animals and need extra resources," said Hawaii Animal Kuleana Alliance Executive Director Syndi Texeira.
Linens included sheets, bathmats, bath towels, pool towels, washcloths, and hand towels, all of which can be utilized for multiple purposes for the animals that these organizations and businesses serve.
"We're glad these linens and towels will find a second life in the hands of Hawai'i Animal Kuleana Alliance and their animal rescue partners," said Hilton Waikoloa Village Hotel Manager Simon Amos. "Supporting organizations such as HAKA is so important – the work they do in rescue plays a major part in supporting a thriving Hawai'i Island community for both people and animals."
In addition to distributing the donation to other animal groups, HAKA has so far been able to use the towels to aid in their large animal rescue operations and has added the towels to their Shelter in Place Kits. These kits were created to help community members who may have found a lost animal over the 4th of July weekend and needed extra support. The kits included food, treats, towels, puppy pads/litter boxes, gloves, water, and more. HAKA has extended this program for the next couple of months to aid the County as it currently has a moratorium on animal intakes. Anyone who has found a lost animal and is holding them in place should fill out a Lost & Found report at bit.ly/HAKAlostNfound which will be forwarded to Animal Control. They can then text a request for a Shelter in Place Kit to 808.747.3373.
Any rescues or vets who may have been inadvertently missed during the first distributions can still receive a donation of linens by emailing info@808haka.org.
"We were really excited to get some much-needed towels and sheets to these Big Island rescues and vets who we've had a relationship with over the past few years. We know we've missed a few folks, and we are excited to start new relationships, so we hope that they will reach out so we can get some of this generous donation in their hands, too," Texeira said.
HAKA is currently recruiting volunteers for their programs including their Animal Emergency Rescue Training in the fall. For more information on how to volunteer, donate, or support HAKA, including how to follow them on social media, visit linktr.ee/808HAKA.
About Hawai'i Animal Kuleana Alliance
The Hawai'i Animal Kuleana Alliance was founded in 2018 as the Hawaii Lava Flow Animal Rescue Network (HLFARN), a Facebook group and network of volunteers created to aid in the 2018 Kilauea eruption in Lower Puna. After the eruption subsided, HLFARN continued to aid Hawai'i Island's animals and the people who love them, eventually gaining official nonprofit status under the Hawai'i Animal Kuleana Alliance name. HAKA's primary mission is to aid in emergency rescue, disaster planning and rescue, and other community efforts that support the human/animal bond. HAKA is currently integrating the cutting-edge Human-Animal Support Services model created by American Pets Alive! into its operations in order to provide the most current, industry-forward practices into its operations.