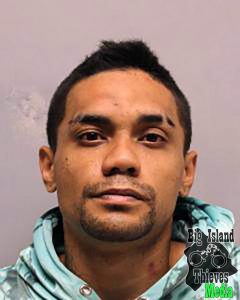 Prosecuting Attorney Kelden Waltjen announced that a Hilo man, 30 year-old Dustin Ahia-Vincent, was charged with robbery, felony assault, and abuse in relation to an August 2, 2022 domestic incident that occurred at Reed's Bay in Hilo.
As the Complaint alleges, Ahia-Vincent was charged with Robbery in the Second Degree (in the course of committing theft, used force against another person with intent to overcome the other person's physical resistance or physical power of resistance), Assault in the Second Degree (cause substantial bodily injury to another person), Felony Abuse of a Family or Household Member (by impeding the normal breathing or circulation of the blood by applying pressure on the throat or the neck with any part of the body or a ligature and/or blocking the nose and mouth and/or applying pressure to the chest), and Interference with Reporting an Emergency or Crime. The most serious offense, Robbery in the Second Degree, is a class B felony offense which carries a maximum penalty of a ten (10) year prison term.
Ahia-Vincent made his initial appearance on Thursday afternoon in Hilo District Court. His bail was maintained at $46,000.00 and he was ordered to appear for a preliminary hearing on Monday afternoon in Hilo District Court.
The investigation was initiated by Officers Mikhail Watkins and Joshua Rodby-Tomas, South Hilo Patrol, Hawai'i Police Department. The case is being prosecuted by Deputy Prosecuting Attorney Ha'aheo Kaho'ohalahala.
The charges are merely allegations, and the Defendant is presumed innocent unless and until proven guilty.
The Office of the Prosecuting Attorney remains dedicated to the pursuit of justice with integrity and commitment. Anyone having information to assist local law enforcement should call Crime Stoppers at (808) 961-8300.