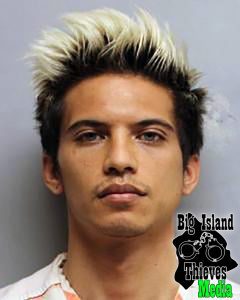 A Honoka'a man, 27-year-old Adam Kahekili Kepoo, must serve ten years in prison before being eligible for parole. The Hawai'i Paroling Authority set Kepoo's minimum term at the maximum of ten years following an October 24, 2022 hearing. As a result, Kepoo will not be eligible for release until April 22, 2031.
Last December, Kepoo was sentenced to serve a ten-year prison term for seven felony offenses, including a single count each of Kidnapping (restraining another person with the intent to inflict bodily injury upon that person) and Terroristic Threatening in the First Degree (with the use of a dangerous instrument, a knife), two counts of Felony Abuse of a Family or Household Member (where the physical abuse consisted of causing bodily injury by impeding the normal breathing or circulation of the blood by applying pressure on the throat or neck), and three counts of Assault in the Second Degree (two charges for causing bodily injury with a dangerous instrument and one charge of causing substantial bodily injury). Kidnapping, the most serious offense, is a class B felony that carries a maximum penalty of ten years in prison. All of Kepoo's crimes were committed against the same woman during their three-month dating relationship.
The case was initiated by Sergeant Thomas Chun-Ming, South Kohala Patrol, and the felony investigation was handled by Detective Brandon Mansur, Area II Juvenile Aid Section, Hawai'i Police Department. The case was prosecuted by Deputy Prosecuting Attorney Annaliese Wolf.
"Domestic abuse is a serious problem in our community and a top priority of our Office," said Prosecuting Attorney Kelden Waltjen. "This prosecution reflects the commitment of our Office and the Hawai'i Police Department to hold offenders accountable for their actions and seek justice for victims and survivors of domestic abuse and violence."
"Domestic violence is more than mere physical abuse; it is creating a cloud that follows the victim everywhere and convinces them that they will not be believed, nor can they leave," said Deputy Prosecuting Attorney Annaliese Wolf. "If there is any lesson to be imparted from this terrible case, it would be that if you see something, say something, and believe what you are being told. Victims need to know they can become survivors."
The Office of the Prosecuting Attorney remains dedicated to the pursuit of justice with integrity and commitment. Anyone having information to assist local law enforcement should call Crime Stoppers at (808) 961-8300.