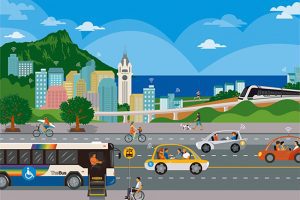 Legislators and transportation industry partners gathered to announce the passage of a bill that would make Hawai'i the first state to commit to a zero-emissions clean transportation future for air, sea, and ground transportation within the state, which will catalyze investment, innovation, and help lower the cost of transportation.
Senate Bill 3311 HD2 establishes the Hawai'i Clean Transportation Initiative, which sets a goal in law to achieve zero-emissions clean transportation throughout Hawai'i. The measure empowers the Department of Transportation and State Energy Office to accelerate investment, innovation, and partnership with clean transportation industry innovators to achieve zero-emissions interisland transportation, and rapidly expand electric vehicle chargers and infrastructure to enable the switch to zero-emissions vehicles.
Electric transportation in Hawai'i will be truly clean because the state is on track to generate its power from clean renewable sources. Hawai'i led the nation as the first state to require utilities to generate 100 percent renewable electricity by 2045 (Act 97, 2015) and the first state to enact a law to achieve a carbon-negative clean economy, sequestering more carbon emissions than it produces, by 2045 (Act 15, 2018). SB 3311 and partnerships with industry innovators to expand clean transportation will help Hawai'i achieve these targets.
Innovative transportation companies developing fully electric aircraft, gliders, and other airborne vehicles are now working to bring zero-emissions electric aviation and inter-island transportation options to Hawai'i. Test flights have already been conducted. Hawai'i also has among the highest rates of electric vehicle and electric hybrid adoption in the country, and work is underway to expand charging options to enable all residents to switch to cheaper, cleaner vehicles.
SB 3311 now awaits action by Governor David Ige, who must either sign, veto, or let the bill become law without his signature by July 12, 2022.
"Eliminating our dependence on costly fossil fuels by switching to clean transportation options means we can significantly reduce the cost of getting around for local residents and reduce the cost of inter-island airfare," said Senator Chris Lee, chair of the Senate Transportation Committee and introducer of SB 3311. "Electric vehicles are already cheaper to operate and maintain than conventional gas cars, but finding convenient chargers has been a barrier for families looking to switch. This will help make cheaper electric vehicles available to everyone."
"It's incredibly exciting to see the State of Hawaiʻi taking tangible steps toward Governor Ige and the State of Hawaiʻi Legislature's 2050 Sustainability Plan. The passing of SB 3311 will enable strong private and public sector partnerships to coalesce, supporting the introduction of cutting-edge green technologies and infrastructure for a more resilient Hawaiʻi." – Billy Thalheimer, CEO, REGENT
"Hawaiʻi is at the forefront of decarbonization efforts thanks in large measure to strong support from state government, including measures like SB 3311. It's one of the reasons Ampaire, with support from Elemental Excelerator, chose to demonstrate its low-emission technology along airline routes on Maui. We look forward to Hawai'i being among the first to benefit from green aviation." – Kevin Noertker, CEO and co-founder, Ampaire
"Passing this bill strongly positions Hawai'i to advance sustainable transportation through public and private sector collaboration. With this measure, Hawai'i residents will see their state become a leader in zero-emission aviation." – Val Miftakhov, CEO, ZeroAvia
"Hawaiʻi's new car dealers are all-in on electric vehicles and much appreciate the proposed working group discussions on renewable fuel vehicle adoption in SB 3311. Dealers are in hopes the bill will soon be signed into law. These discussions will help accelerate EV adoption. The Hawai'i Auto Outlook reported a pivotal moment this quarter. EVs have now reached a double-digit share number of new-vehicle registrations in the first quarter of the year (10%) – with 8.1% of new vehicles registered in the quarter being Battery Electric Vehicles (BEVs) and 1.9% Plug-in Hybrid Electric Vehicles (PHEVs)." – Dave Rolf, Executive Director, Hawai'i Automobile Dealers Association
"We must speed up the adoption of electric vehicles. They are cleaner and more efficient, and they offer Hawai'i's households the opportunity to save on car fueling and maintenance costs. Thus, it will be essential to ensure an equitable transition. Purchase incentives, support of public charging, and other tactics designed to remove barriers to adoption are critical. Thankfully, our Legislature passed SB 3311 that will help enable this." – Noel Morin, Hawai'i EV
"Hertz continues to support the legislative efforts in Hawai'i to convert the current transportation sector to electrification and strongly supports the goals of SB 3311. We look forward to continuing our work with Senator Lee, his colleagues, and Governor Ige on these important issues." – Jim East, Vice President, Government Relations, Hertz Global
"Servco is proud to support the State of Hawai'i's commitment to a clean transportation future. We all play a part in reducing our reliance on fossil fuels and shifting to more sustainable vehicle options," said Peter Dames, executive vice president at Servco Pacific Inc. "From hybrid, to plug-in hybrid, to battery electric, to fuel cell vehicles, it's important to offer our community a variety of alternative fuel vehicle options to best suit their lifestyle."
"Pacific Current commends the Governor and Hawaiʻi State Legislature in the passing of SB 3311, which sets long-term goals for zero emission transportation through the deployment of working groups to develop plans to achieve the State's zero-emission goals. By establishing firm and achievable emission reduction targets and utilizing local knowledge and collaboration, a zero-emission transportation sector will become a reality for kamaʻāina." – Scott Valentino, President, Pacific Current
"It's exciting to see policy in Hawaiʻi set the stage for innovators and entrepreneurs to grow new businesses and deploy solutions that help solve climate change." – Dawn Lippert, Founder and CEO, Elemental Excelerator
"Through this bill, Hawai'i is taking a bold, proactive approach to optimizing investment, innovation, and synergy around clean transportation across the local industry," said Murray Clay, president of Ulupono Initiative. "Transportation accounts for roughly two-thirds of fossil fuel use in our state, and ground transportation alone is the second-largest producer of greenhouse gas emissions. That's why we at Ulupono Initiative invest and partner in support of cleaner, affordable transportation options for Hawai'i's communities. We commend the Legislature for its leadership in passing SB 3311, empowering the Department of Transportation, Hawai'i State Energy Office, along with industry and community members, to work together to push the accelerator on zero-emissions transportation here in Hawai'i, so that we as a state are best positioned to take advantage of transformative national and global trends to improve quality of life for Hawai'i residents."