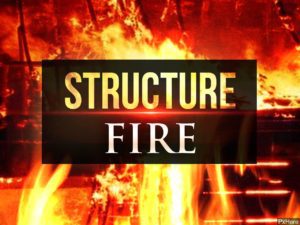 At 1:43 am this morning Pahoa Fire Department responded to a report of a structure fire in Hawaiian Shores on Kahakai st.
With the first units arriving on the scene at around 1:45 am at Heepali & S. Puni Mauka Loop house, Hawaii Fire Department found a 1 story, wood-frame house with no occupants within the residence that appeared to be abandoned and occupied by squatters. The structure's carport was completely engulfed in flames with flame direct impingement on the main structure. And the carport structure fully collapsed shortly after arrival.
HFD blocked access to the area for safety and gained access to the structure through an open front door and an exterior attack was initiated on the south side of the structure using a 1-3/4″ per-connected line. Additional arriving units provided manpower and water supply for HFD to started extinguishing the fire from the Alpha Delta side. The fire was brought under control by 2:03 am and all units participated in an extensive overhaul.
There was 1 other unaffected structure toward the backside of the property. No other exposures were threatened. The cause of the fire is still under investigation.
(Correction to Hawaiian Shores and Kahakai st. Hawaii Fire Department Release accidentally stated Leilani Estatesand kahukai)