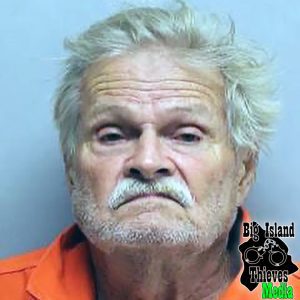 Prosecuting Attorney Kelden Waltjen announced yesterday evening that a Mountain View man, 75-year-old Robert Goodwin was charged with commercial sexual exploitation of a minor. The incident, which involved five (5) minors, occurred on July 23, 2022, at Carlsmith Beach Park also known as "Four Miles" in Hilo.
As the Complaint alleges, Goodwin was charged with Commercial Sexual Exploitation of a Minor (agree to provide or offer to provide anything of value, money and/or alcohol and/or marijuana, to a minor or third person for the purpose of engaging in sexual conduct with a minor, and/or solicited, offered to engage in, or requested to engage in sexual conduct with a minor in return for anything of value, money and/or alcohol and/or marijuana) and four counts of misdemeanor Commercial Sexual Exploitation Near Schools or Public Parks (provide, agree to provide, or offer to provide a fee or anything of value to another person to engage in sexual conduct within 750 feet of a school or public park). The most serious offense, Commercial Sexual Exploitation of a Minor, is a class B felony that carries a maximum penalty of ten (10) years in prison and a fine of no less than $5,000.00.
This charge reflects the language of the law that was changed and updated in legislation in 2021 & 2022. The Hawai'i Revised Statute Section 712-1209.1
The law's intention was a step towards separating child/minor from being paired with prostitution as there are no child prostitutes, children are being prostituted. Commercial Sexual Exploitation of a Minor-otherwise known as (CSEC) involves a sex act in exchange for something of value or a promise thereof.
Goodwin made his initial appearance in Hilo District Court on Monday afternoon. The prosecutor's request to increase bail was granted. The District Court set Goodwin's bail at $54,000.00. Goodwin remains in custody at this time.
The case was handled by Officer Krimsen Abilla, South Hilo Patrol, Detective Richard Itliong, Juvenile Aid Section, Area I Criminal Investigation Section, and Hawai'i Police Department. The case is being prosecuted by Deputy Prosecuting Attorney Heipua Ahloy.
The charges are merely allegations, and the Defendant is presumed innocent unless and until proven guilty.
"The sexual exploitation of children can cause serious and irrevocable emotional and psychological harm," said Prosecuting Attorney Kelden Waltjen. "Our Office is committed to seeking justice for victims and working with law enforcement to protect keiki by addressing these type of threats, holding offenders accountable, and spreading awareness about this important concern in our community."
The Office of the Prosecuting Attorney remains dedicated to the pursuit of justice with integrity and commitment. Anyone having information to assist local law enforcement should call Crime Stoppers at (808) 961-8300.