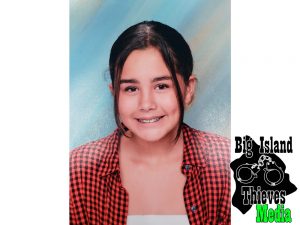 Hawaii Island police are requesting the public's assistance in locating 14-year-old Uilani Leaverton of Mountain View, who was reported as an endangered Runaway.  She was last seen on Sunday, May 29, 2022, at 1:57 p.m. in Mountain View, wearing a black shirt and carrying a white Adidas backpack.

Leaverton is described as being, 4 feet 1 inches tall, 75 pounds, with brown eyes and reddish-brown colored hair. She has a medical condition that requires her to take medication.

Police ask anyone with any information about this case to call the Police Department's non-emergency line at 935-3311.