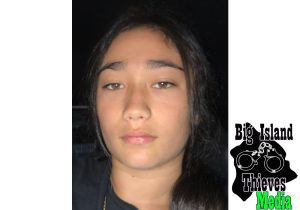 Hawai'i police are asking for the public's assistance in locating 13-year-old Arieana R.K. Balbin of Kurtistown, who was reported as a runaway.
Balbin was last seen in the 16-2400 block of Ainaloa Drive in Kurtistown, on the morning of Tuesday, January 3, 2023.
She is described to be Polynesian with a fair complexion and a thin build, 4 feet 6 inches tall, 90 pounds, with black hair and brown eyes.
Police ask anyone with information on Balbin's whereabouts to call the police department's non-emergency line at (808) 935-3311 or contact Officer Shane Hanley at shane.hanley@hawaiicounty.gov.