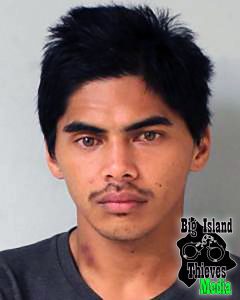 Hawai'i Island police are asking for the public's assistance in locating 23-year-old Harrison Duadua-Apao who is wanted for a theft and criminal property damage investigation that occurred in Pāhoa on Monday, March 6, 2023.
At 10:20 a.m. Monday morning, Puna patrol officers responded to a reported motor vehicle theft at a retail business establishment in Pāhoa after a caller reported that her white 1997 Nissan pickup truck was removed from the parking lot without her permission.
Nearly an hour later at 11:17 a.m., an officer observed an unoccupied vehicle matching the description of the stolen pickup truck parked several miles away at a public water spigot in Pāhoa. As the officer drove closer to the stolen vehicle, Duadua-Apao got into the truck and accelerated forward, colliding into the officer's vehicle, disabling them both. Duadua-Apao then fled the area on foot. He was last seen wearing basketball type shorts and no shirt. The officer did not sustain any injuries as a result of the collision.
Duadua-Apao is described as having a medium build with a tan complexion, 5 feet 8 inches tall, 155 pounds, with black hair and hazel eyes.
The Area I Criminal Investigation Section is continuing this investigation, which is classified as first-degree theft and first-degree criminal property damage. A warrant has also been issued for Duadua-Apao's arrest.
Police ask anyone who may know the whereabouts of Duadua-Apao to call the police department's non-emergency number at (808) 935-3311, or Officer Rodney Delima of Puna Patrol at (808) 965-2716 or email ro***********@ha**********.gov.
Citizens who wish to remain anonymous can make an anonymous tip through Crime Stoppers at (808) 961-8300 and be eligible for a reward of up to $1,000. Crime Stoppers does not record any calls or subscribe to caller ID.