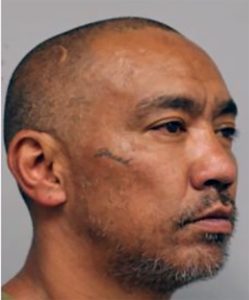 Prosecuting Attorney Kelden Waltjen announced that an Ocean View man, 44 year-old Ronald P.K. Kahihikolo, was indicted by a Hilo grand jury on Wednesday.
Kahihikolo was charged in relation to a March 7, 2023 incident at a residence on Outrigger Drive in Ocean View, where Kahihikolo is alleged to have shot a female in the head with a shotgun. Kahihikolo was also charged in relation to a March 10, 2023 incident, where Kahihikolo is alleged to have disregarded police attempts to arrest him for outstanding warrants while operating a stolen Dodge Charger.
Kahihikolo is scheduled to make his initial appearance in Kona Circuit Court on Monday. Prosecutors have filed a motion requesting to detain Kahihikolo without bail pending his trial. He remains in custody in lieu of $196,000.00 bail.
As the Indictment alleges, Kahihikolo was charged with eight offenses including, Attempted Murder in the Second Degree (intentionally discharged a firearm in the direction of another person), Abuse of Family or Household Member, Unauthorized Control of a Propelled Vehicle in the First Degree, Resisting Order to Stop in the First Degree, Theft in the First Degree (theft of a motor vehicle, a Dodge Charger), Ownership or Possession of Firearm Prohibited, Ownership of Possession of Ammunition Prohibited, Carrying or Use of Firearm in the Commission of a Separate Felony.
Attempted Murder in the Second Degree carries a sentence of life imprisonment with the possibility of parole.
The charges are merely allegations, and the Defendant is presumed innocent unless and until proven guilty.
The case was initiated by Officers Melissa D'Angelo, Isaac Michaels, and Xylon Takata, Ka'u Patrol, and the felony investigation was led by Detective Blayne Matsui and assisted by Detectives Len Hamakado, Jason Foxworthy, and Donovan Kohara, Area II Criminal Investigations Division, Hawai'i Police Department. The case is being prosecuted by Deputy Prosecuting Attorney Chase Murray.
The Office of the Prosecuting Attorney remains dedicated to the pursuit of justice with integrity and commitment. Anyone having information to assist local law enforcement should call Crime Stoppers at (808) 961-8300.