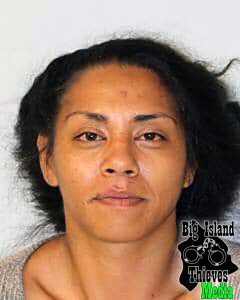 Today, Prosecuting Attorney Kelden Waltjen announced that a Puna woman, 30-year-old Linita Kapeli-Spencer was charged in relation to operating a stolen car and driving without a license after an October 21st traffic stop on Pahoa Village Road.
As the Complaint alleges, Kapeli-Spencer was charged with Unauthorized Control of a Propelled Vehicle in the First Degree and Driving Without a License. A review of court records indicates that at the time of the alleged offense, Kapeli-Spencer was already on supervised release for an unrelated felony matter.
Kapeli-Spencer will make her initial appearance today in Hilo District Court. She remains in custody in lieu of $10,500.00 bail. Prosecutors intend to object to any requests for supervised release or reductions of bail.
The investigation was handled by Officers Daniel Tam, Chad Sato, and Rodney DeLima, Puna Patrol, Hawai'i Police Department. The case is being prosecuted by Deputy Prosecuting Attorney R. Winston Albright.
The charges are merely allegations, and the Defendant is presumed innocent unless and until proven guilty.
The Office of the Prosecuting Attorney remains dedicated to the pursuit of justice with integrity and commitment. Anyone having information to assist local law enforcement should call Crime Stoppers at (808) 961-8300 in East Hawai'i.