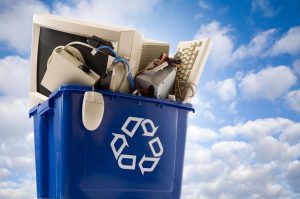 The County of Hawai'i Department of Environmental Management, Solid Waste Division announces special electronics recycling collection events at Mr. K's Recycle & Redemption (815 Kino'ole St., Hilo) on January 14, and at the Kona Crossroads Shopping Center parking lot (75-1027 Henry St.) on January 21, both events are from 8:30 a.m. to 4:30 p.m.  These free events are open to households, businesses, government agencies, and non-profits.
The Solid Waste Division's contractor will be collecting computers (desktops, tablets, and laptops), printers/fax machines, computer peripherals (keyboards and mice), TVs and monitors (CRT, plasma, LCD & LED), uninterruptible power supply systems (UPS), mobile and landline phones, digital cameras, VCRs/DVD players and stereo components (no speakers). No other types of electronics will be accepted.
Businesses, non-profit organizations, and agencies must make a scheduled appointment and detail the electronic devices they want to recycle at the event. There will be a strict limit of one pallet load per business, non-profit, or agency customer. Businesses, non-profits, or agencies without a scheduled appointment or with electronic quantities that exceed the limit will be disallowed. To schedule an appointment, please call Mr. K's Recycle & Redemption at 808-969-1222.
Please visit our www.hawaiizerowaste.org website and register for Solid Waste Notifications (via email or text).