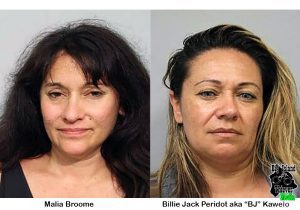 Prosecuting Attorney Kelden Waltjen announced that on November 18th, U.S. District Court Judge Helen Gillmor sentenced 45 year-old Malia Broome of Waimea and 43 year-old Billie Jack Peridot aka "BJ" Kawelo of Puna, to federal prison terms in relation to a methamphetamine distribution conspiracy which occurred between April 1 and May 27, 2020.
Earlier this month, 46 year-old Maximillian Oleksiak of Puna was sentenced to a 110 month federal prison term for his involvement in the case. The case was initiated after Hawai'i Police Department Area II VICE Section officers contacted Kawelo, Broome, and Oleksiak within the Kona Coast Shopping Center parking lot on May 27, 2020. A subsequent search of Broome's Cadillac sedan resulted in the recovery of approximately two (2) pounds of methamphetamine.
Kawelo was sentenced to 60 months and Broome to 48 months in federal prison for the offense of Conspiracy to Distribute and Possess 50 Grams or More of Methamphetamine with Intent to Distribute (combine, conspire, confederate, and agree with at least one other person, to distribute and possess with intent to distribute 50 grams or more of methamphetamine). Judge Gillmor also ordered that Broome and Kawelo be placed on five (5) years of supervision following their federal prison sentences.
Kawelo and Broome, who remained out of custody for the pendency of these criminal matters, were ordered to surrender themselves to federal authorities to begin serving their federal prison terms. Kawelo is scheduled to turn herself in on January 6, 2022 and Broome on December 30, 2021.
"Our Office will continue to promote and encourage coordination between local, state, and federal law enforcement agencies to hold drug dealers accountable and prioritize the prosecution of the distribution of methamphetamine in our community. These investigations and prosecution were the result of a combined effort by members of the Hawai'i Police Department's Area I and II VICE Sections, U.S. Department of Homeland Security Investigations, Hawai'i County Prosecutors, and the U.S. Attorney's Office." said Prosecuting Attorney Kelden Waltjen.
The Office of the Prosecuting Attorney remains dedicated to the pursuit of justice with integrity and commitment. Anyone having information concerning illegal narcotics distribution should call the Hawai'i Police Department Vice Section in East Hawai'i at (808) 961-2258 or in West Hawai'i at (808) 326-4646 Ext. 226, or Crime Stoppers at (808) 961-8300.