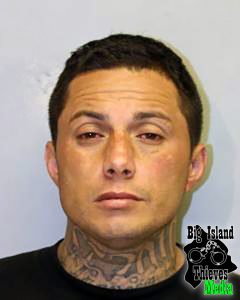 Prosecuting Attorney Kelden Waltjen announced that a Hilo man, 35-year-old Albert Kumia, Jr., was charged in relation to the theft of a Honda CR-V, originally reported stolen on May 7, 2022, from within the parking lot of a Hilo business, habitual property crime, and methamphetamine possession offenses.

As the Complaint alleges, Kumia, a repeat and persistent offender with five (5) prior felony convictions, was charged with four (4) offenses including Theft in the Second Degree (exert unauthorized control over a Honda CR-V, valued over $750, with intent to deprive the owner of the Honda CR-V), Unauthorized Control of a Propelled Vehicle in the First Degree (operate a Honda CR-V and/or change the identity of the Honda CR-V without the owner's permission), Habitual Property Crime, and Promoting a Dangerous Drug in the Third Degree (possession of any amount of methamphetamine). All four of these offenses are class C felonies and carry a maximum penalty of five (5) years in prison. If convicted as charged, Kumia faces sentencing to a mandatory minimum prison term without the possibility of parole.
A review of court minutes indicates that at the time of his arrest, Kumia was facing revocation of his felony probation in two other unrelated matters and was recently released from custody after being granted supervised release over the Prosecutors' objections on May 2, 2022.

Kumia is scheduled to make his initial appearance on Friday in Hilo District Court. He remains in custody in lieu of $40,000.00 bail.

The case was initiated by Officers Kris Palea and Preston Paglinawan, South Hilo Patrol, and the felony investigation was handled by Officer Rodney DeLima and Detective Keith Simeona, Special Enforcement Unit, Area I Criminal Investigation Section, Hawai'i Police Department. The case is being prosecuted by Deputy Prosecuting Attorney Kevin Soong.

The charges are merely allegations, and the Defendant is presumed innocent unless and until proven guilty.

The Office of the Prosecuting Attorney remains dedicated to the pursuit of justice with integrity and commitment. Anyone having information to assist local law enforcement should call Crime Stoppers at (808) 961-8300.
#hawaiiprosecutors #hawaiipolicedepartment