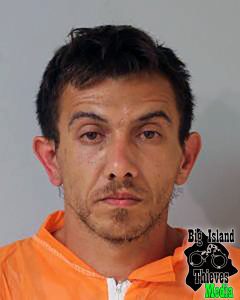 35-year-old Rancey Sonny Kawika Lee, of Pahoa, with charged with various offenses following the armed robbery of a fast food restaurant in Pahoa.
The charges against Lee stem from an incident reported shortly after 1:00 p.m., on Friday, January 20, 2023, when Puna patrol officers responded to a reported armed robbery at a fast food restaurant in a shopping center in Pahoa. Employees reported the suspect, who was armed with a screwdriver and a large wrench, disguised his face and went behind the counter, where he made loud verbal demands for money. He left the area prior to police arrival, without receiving any money or other items. There were no reported injuries to employees.
Additional responding officers located Lee walking on Pahoa Village Road, where he was arrested without incident. He was found to be in possession of a pair of scissors and a wrench as described by witnesses.
On Saturday morning, January 21, 2023, after conferring with County Prosecutors Office, Area I Criminal Investigation Section detectives charged Lee with the following offenses:
second-degree robbery
first-degree terroristic threatening
second-degree criminal trespass drug
His bail was set at $36,000.
Lee remained in police custody pending his initial court appearance on Monday afternoon, January 23, in Hilo District Court.
Police ask anyone who may have information regarding this incident to contact the police department's non-emergency number at (808) 935-3331 or Detective Kimo Keliipaakaua of the Area I Criminal Investigation Section at (808) 961-2375 or email Kimo.Keliipaakaua@hawaiicounty.gov.