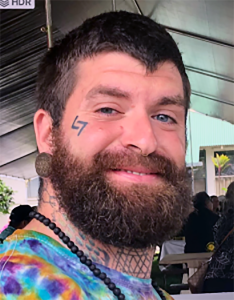 Hawai'i Island police are again renewing their request for any information relative to the disappearance of 34-year-old Kelly Gravitt, of Pāhoa. He was reportedly last seen on the evening of May 19, 2023, in the area of Pāhoa Village Road and Kauhale Street in Pāhoa town. He was reportedly wearing gray shorts and no shirt.
Gravitt has not been seen or heard from since May 2023, and his family is deeply concerned for his wellbeing. His family is also offering a cash reward for information that may lead to his whereabouts.
Area I Criminal Investigation Section detectives have conducted countless interviews and follow-ups over the last several months in relation to Gravitt's disappearance.
Gravitt is described as Caucasian, 6 feet tall, approximately 180 pounds, with brown hair, blue eyes, and a beard. He also has several tattoos on his face and neck areas.
Police ask anyone who may have information on the whereabouts of Gravitt to call the police department's non-emergency number at (808) 935-3311, or Detective Zenas Pacheco of the Area I Criminal Investigation Section at (808) 961-2384 or email Zenas.Pacheco@hawaiicounty.gov.