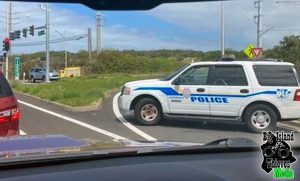 Hawai'i Island police detectives are investigating an officer-involved shooting incident that occurred this morning, Friday, March 10, 2023, in Kona.
On Tuesday morning, March 7, 2023, Ka'ū patrol officers responded to a report of a 42-year-old woman who had been shot during a domestic dispute in the 92-2000 block of Outrigger Drive in Ocean View (Report No. 23-022915). The woman sought medical attention for the gunshot wound at the Ocean View Fire Station and was taken to the Kona Community Hospital for treatment, where she remains in stable condition. Detectives with the Area II Juvenile Aid Section identified the suspect in that case as 44-year-old Ronald Patrick Keahonui Kahihikolo, of Ocean View, and a media release was issued on that day requesting the public's assistance in locating him. Kahihikolo is wanted for attempted murder in connection with this incident and for outstanding bench warrants.
Continuing their investigation, on the morning of Friday, March 10, 2023, plainclothes Area II Vice detectives and officers received information that Kahihikolo was in the Kona area, and in the company of several individuals who were in possession of two stolen vehicles, a silver Chevy Malibu and a white Dodge sedan.
As Vice detectives began canvassing the area, officers observed the Chevy Malibu traveling southbound on Kamakaeha Avenue. As the Malibu came to a stop at the intersection of Kamakaeha Avenue and Palani Road, detectives attempted to contact the vehicle's occupants. Ignoring the officers' lawful commands to show them his hands, the male driver began reaching for an object. Fearing for their safety, two officers discharged their duty weapons, striking the driver.
The driver then drove the vehicle across all lanes of Palani Road and down an embankment before coming to a stop. Detectives followed the vehicle down the embankment.
When detectives arrived at the vehicle they observed that the driver had injuries and immediately started life-saving measures, unfortunately he died at the scene. Investigators later recovered multiple firearms from within the vehicle.
The identity of the driver is being withheld, pending notification of next of kin.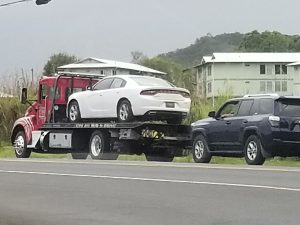 A passenger in the vehicle, 26-year-old Jacqueline Keanaaina, of Kailua-Kona, suffered minor injuries in the traffic crash and was treated at the scene by Hawaii Fire Department medics. She was then arrested for an outstanding warrant and transported to the Kealakehe Police Station.
One detective sustained minor injuries and was provided with first aid at the scene.
As these events were unfolding, the white Dodge sedan believed to be driven by Kahihikolo was seen traveling northbound towards Waimea.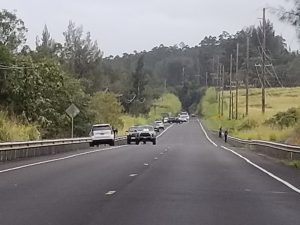 Police pursued Kahihikolo through the Waimea area and he exited Highway 19 near the 40-mile marker, in lower Kalopa in Hāmākua. Kahihikolo was last seen on foot wearing a plaid shirt and jeans in the area of Highway 19 near the 40 mile marker in a secluded area near a gulch.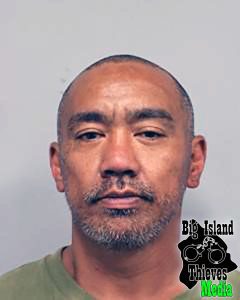 He is described as 5 feet 7 inches tall, 215 pounds, with black hair and brown eyes and has a distinctive tattoo on his right cheek near his eye that reads "greed".
Police are currently searching for Kahihikolo, who is considered armed and dangerous. Please avoid the area while police search for him and report any suspicious activity in the area by calling 911.
Detectives from the Area II Criminal Investigation Section are continuing this investigation.
The Office of Professional Standards has initiated an internal administrative investigation. The involved detectives are 25-year and 13-year veterans, respectively, and will be placed on administrative leave pending an internal review of this incident.
This investigation remains continuing and updates will be provided as they become available.
Police ask anyone with information on this incident to contact the police department's non-emergency number at (808) 935-3311, or Area II Criminal Investigation Section Detective Jason Foxworthy, via email at Ja*************@ha**********.gov or at (808) 326-4646 ext. 281.
Tipsters who prefer to remain anonymous may call the islandwide Crime Stoppers number at (808) 961-8300 and may be eligible for a reward of up to $1,000. Crime Stoppers is a volunteer program run by ordinary citizens who want to keep their community safe. Crime Stoppers doesn't record calls or subscribe to caller ID. All Crime Stoppers information is kept confidential.