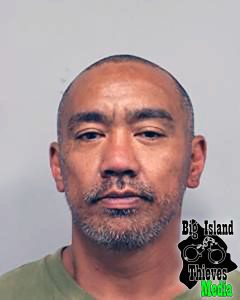 Hawai'i Island police are asking for the public's assistance in locating Ronald Kahihikolo, who is wanted for attempted murder and numerous outstanding bench warrants.
Kahihikolo is believed to be in the Hāmākua area and was last seen shortly before noon on Friday, March 10, 2023, on foot in the area of Highway 19 near the 40 mile marker in the lower Kalopa area.
Kahihikolo is described as 5 feet 7 inches tall, 215 pounds, with black hair and brown eyes and has a distinctive tattoo on his right cheek near his eye that reads "greed". He was last seen wearing a plaid shirt with jeans.
He is considered armed and dangerous. Police caution members of the public not to approach Kahihikolo and to immediately call 911 if they see him.
Tipsters who prefer to remain anonymous may call the islandwide Crime Stoppers number at (808) 961-8300 and may be eligible for a reward of up to $1,000. Crime Stoppers does not record any calls or subscribe to caller ID.
This is an unfolding and ongoing investigation and more information will be released as it becomes available.