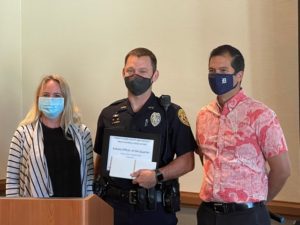 For his work conducting several high-quality investigations, Hawai'i Police Department Officer Adam Roberg was recognized by the Hawai'i Island Security and Safety Professionals Association (HISSPA) as the HISSPA Officer of the Quarter for Q4 2020 on Friday, February 12.
Officer Roberg was selected for this prestigious honor for his outstanding investigative skills, commitment to the community he serves, and his unmatched passion for his chosen profession. For example, when it was reported that a man was using a large machete to try to gain entry into post office boxes at a South Kohala postal facility plagued by vandalism, Officer Roberg reported to work early in order to help look for the suspect. Conducting area checks, Roberg was able to locate the suspect in Waimea, who was subsequently arrested and charged with three felony offenses and two misdemeanor offenses. Since the suspect's arrest, there have been no new cases of vandalism at the establishment.
In another incident, Officer Roberg responded to a report of a vehicle that was broken into and a wallet with credit cards stolen. He identified five locations in the Waimea area that the victim's stolen cards were being used and, knowing that time was of the essence, quickly contacted the various establishments where the cards were being used in an effort to identify the responsible individual. After reviewing video surveillance footage, he was able to positively identify and then locate the suspect who was arrested a short time later. Based on Officer Roberg's thorough investigation, the suspect was charged with 13 felony offenses and one misdemeanor offense related to the vehicle break-in and identity theft.
On another occasion, Officer Roberg stopped to check on a vehicle parked on the side of Kawaihae Road with the hazard lights flashing, possibly in need of assistance. Upon talking with the male occupant, Officer Roberg observed narcotics, as well as narcotics paraphernalia within the vehicle. Receiving permission to search the car, he discovered 22 grams of methamphetamine (an amount associated with narcotic distribution), seven grams of marijuana, and $6,847 in U.S. currency.
Any of the investigations cited are individually worthy of recognition, but as a whole, they paint a picture of Officer Roberg's investigative / observation skills, his dedication to duty, and his commitment to make our island community a safe place to live, visit, and conduct business.