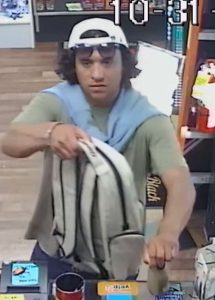 Hawai'i Island police are requesting the public's assistance identifying a theft suspect who was captured on video surveillance using a stolen credit card at two Kona area businesses late Tuesday afternoon, October 31, 2023.
Around 5:53 p.m. on Tuesday, police received a report that an unidentified male suspect used a stolen credit card at two stores in Kailua-Kona, one on the 75-5600 block of Kuakini Highway and the other on the 74-5400 block of Makala Boulevard.
The suspect is described as a local male with a medium build and complexion, 25 to 35 years old, with dark colored, shoulder-length hair. He was last seen wearing a green t-shirt, blue shorts, white tennis shoes, a white hat, and sunglasses.
Anyone with information about the identity of this person is encouraged to contact Kona Patrol Officer Justin Uresti at (808) 935-3311, or by email at Justin.Uresti@hawaiicounty.gov.
Tipsters who prefer to remain anonymous may call Crime Stoppers at (808) 961-8300. All Crime Stoppers information is kept confidential.