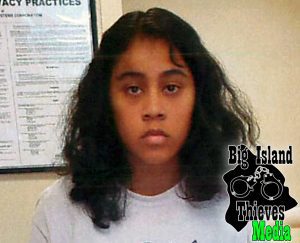 Hawai'i Island police report that 15-year-old Lorissa Keller, who was previously reported as a runaway, was located in Hilo on Thursday, February 10, 2022, in good health.
---
Hawai'i Island police are requesting the public's assistance in locating 15-year-old Lorissa Keller of Hilo, who was reported as a runaway. Keller was last seen on Monday, January 3, 2022, near the 1700 block of Kino'ole Street wearing a black-colored hoodie, black-colored skirt, and black-colored slippers.
She is described as Micronesian with a medium complexion, 5 feet 6 inches tall, 175 pounds, with brown eyes and black hair.
Police ask anyone with information on Keller's whereabouts to call the police department's non-emergency line at (808) 935-3311 or contact Officer Frances Kaschan at frances.kaschan@hawaiicounty.gov.​