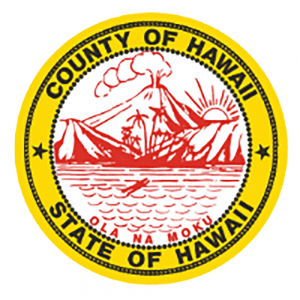 AGENDA
LEEWARD PLANNING COMMISSION
COUNTY OF HAWAII

NOTICE IS HEREBY GIVEN of the following matters to be considered by the Leeward Planning Commission of the County of Hawaii in accordance with the provisions of Chapters 91 and 92, Hawaii Revised Statutes, Section 6-7.5(a) of the Charter of the County of Hawaii; and Planning Commission Rules of Practice and Procedure.
DATE: Thursday, December 15, 2022
TIME: 9:30 a.m.
LOCATION: West Hawaii Civic Center, Council Chambers, Building A,
74-5044 Ane Keohokalole Highway, Kailua-Kona, Hawaii
This is an in-person meeting, and the Leeward Planning Commissioners will participate in person. The primary way to view or testify at this meeting is in-person; however, as a courtesy to the public, the Commission provides the following additional ways to view or testify remotely at this meeting.
Optional Alternative to Provide Remote Oral Testimony: The public has the option to provide verbal testimony at the meeting by joining Zoom. To provide verbal testimony via Zoom, please use the link below to register, no later than noon on the day prior to the meeting:
https://www.zoomgov.com/meeting/register/vJItceCtrz8vH_8FmxZr5URz1xLFRR_UvtA
Optional Alternative to View Meeting:
https://www.youtube.com/channel/UCAFoRMb3rfWLQMPd6TAkEGA?view_as=subscriber
(Please note, as this is an in-person meeting, the hearing will proceed if the Zoom and/or YouTube connections fail.)
The public may provide written testimony via email at LPCtestimony@hawaiicounty.gov or submit by mail or in person at the Hilo Planning office at 101 Pauahi Street, Suite 3, Hilo, Hawaii 96720 or at the Kona Planning office at West Hawaii Civic Center, 74-5044 Ane Keohokalole Highway, Building E, 2nd Floor, Kailua-Kona, Hawaii 96740 preferably up to two business days prior to the hearing by 4:30 p.m.
The Planning Director's background report (including application) and recommendation report for each agenda item will be available for review at www.planning.hawaiicounty.gov prior to the meeting. This information can also be requested by sending an email to LPCtestimony@hawaiicounty.gov or by calling 961-8288.
CALL TO ORDER
APPROVAL OF MINUTES
Review and Approval of the November 17, 2022 Leeward Planning Commission Minutes.
STATEMENTS FROM THE PUBLIC ON AGENDA ITEMS
Members of the public may provide public testimony regarding any agenda item now or at the time the agenda item is called to order.
NEW BUSINESS – 9:30 a.m.
1. APPLICANT: KONA THREE, LLC (PL-REZ-2022-000033)
Application for a ten (10)-year time extension to Condition I (Complete Construction of the First Increment on RM Zoned lands) and an amendment to Condition N (Roadway Standards) to clarify which roadways within the subdivision are subject to the County Dedicable Standards, of Ordinance No. 02 131. Ordinance No. 02 131 was a successor ordinance to Ordinance No. 84 23, which reclassified two (2) parcels of land totaling 68.837 acres of land from an Unplanned to a Multiple Family Residential-5,000 square feet (RM-5) zoned district. The subject properties are located along the east (mauka) side of the Queen Kaahumanu Highway at its junction with Kuakini Highway and between Pualani Estates subdivision to the north and Kona Vistas to the south, por. Holualoa Hui Lands, Holualoa 1, 2, & 3, North Kona, Hawaii, TMKs: (3) 7-6-021:016 & :017.
2. APPLICANT: CARL AND CHRISTINE CARLSON (PL-SPP-2022-000024)
Application for a Special Permit to allow a one-bedroom bed and breakfast establishment within an existing single-family dwelling on 2.832 acres of land in the State Land Use Agricultural District. The subject property is located at
72-4857 Hoomalie Place, approximately 800 feet northwest (makai) of its intersection with Mamalahoa Highway, Kukio 2nd and Maniniowali, North Kona, Hawaii, TMK: (3) 7-2-004:027.
PLANNING DIRECTOR'S REPORT
Report on Special Management Area (SMA) determinations and minor permits issued by the Planning Director for the month of November, 2022.
ELECTION OF OFFICERS
The Commissioners will conduct the election of Officers for 2023.
AGENDA ITEMS FOR NEXT MEETING
The Commissioners will comment on matters not on the current agenda, for consideration for the Commission's next meeting.
ANNOUNCEMENTS
The Leeward Planning Commission's next monthly meeting is scheduled for Thursday, January 19, 2023 at the West Hawaii Civic Center Council Chambers, Building A, and the public can also testify via Zoom. The date and venue of the meeting are subject to change.
ADJOURNMENT
Board Packet. Pursuant to Hawaii Revised Statutes Section 92-7.5, the board packet provided to members of this board for this meeting is available for public inspection forty eight (48) hours before the meeting date during regular business hours at the Hilo office of the Planning Department, Aupuni Center, 101 Pauahi Street, Suite 3, Hilo, Hawaii and at the Kona office of the Planning Department, West Hawaii Civic Center, 74-5044 Ane Keohokalole Highway, Building E, 2nd Floor, Kailua-Kona, Hawaii.
Anyone who requires an auxiliary aid or service, or other accommodation due to a disability, please contact the Planning
Department at 961-8288 or LPCTestimony@hawaiicounty.gov as soon as possible. If a request is received later than five working days prior to the meeting date, we will try to obtain the auxiliary aid/service or other accommodation, but we cannot guarantee that the request will be fulfilled. Upon request, this notice is available in alternate formats such as large print, braille, or electronic copy.