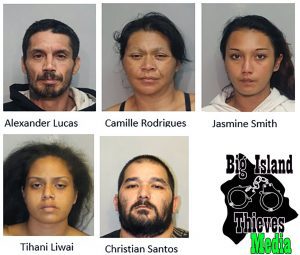 A multi-agency warrant sweep consisting of officers from the Hawai'i Police Department, Sheriff's Department and Department of Land and Natural Resources (DLNR) was conducted in Puna on Wednesday, October 13, 2021.
This resulted in the arrest of five wanted individuals for a total of 11 outstanding warrants for contempt of court and violating conditions of bail. During the sweep officers recovered two vehicles: one vehicle was reported stolen and the other vehicle was recovered after a vice canine alerted to the presence of drugs. Search warrants were executed on both vehicles resulting in the recovery of drugs and paraphernalia. Promoting dangerous drug investigations have been initiated.
Arrested during the multi-agency project were: Alexander Lucas, Camille Rodrigues, Jasmine Smith, Tihani Liwai and Christian Santos.
Police ask anyone with any information relative to the whereabouts of other wanted fugitives to call the police department's non-emergency line at (808) 935-3311.