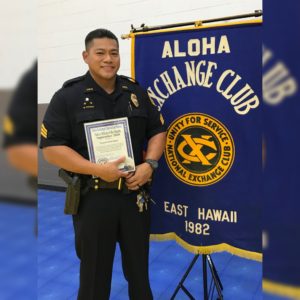 Just one week after Hawai'i Police Department (HPD) received tourniquets as part of a grant from the Spirit of the Blue Foundation, Sergeant Ryan Pagan saved the life of a man who had been stabbed in Puna last fall. Sergeant Pagan not only administered the tourniquet, he was part of the two-person team that trained other officers how to use them correctly. For his quick-thinking actions, Sergeant Pagan was recently honored by the East Hawai'i Aloha Exchange Club's Officer of the Month for September 2020.
On September 4, 2020, officers from the Pāhoa station were dispatched to a report of a person stabbed four to five times in the area of Kekuewa Street. Assigned to the Puna district at the time, Sergeant Pagan was first on the scene and noticed that the victim, a 29-year-old man, was bleeding heavily from his right forearm just above his wrist and was feeling light-heated and dizzy from blood loss. Acting swiftly, Sergeant Pagan applied lifesaving measures and was able to stop the bleeding by using the tourniquet. The victim was transported to Hilo Medical Center by Hawai'i Fire Department personnel and subsequently recovered.
The use of the tourniquet came a week after the life-saving equipment had been distributed to police officers. The department received 442 tourniquets and holsters from the Spirit of the Blue Foundation in July 2020. Sergeant Pagan was one of two department instructors tasked with conducting training on the new equipment island-wide.
The training and deployment of tourniquets to patrol officers had just been completed days earlier when Sergeant Pagan responded to the stabbing incident. He has since transferred to the Administrative Division, Police Recruit Training section.
Every month the East Hawaii Aloha Exchange Club honors a police officer in East Hawaii as their officer of the month. Officers are nominated by their supervisors from the various police districts and a monthly winner is selected. Winners are normally honored at the East Hawaii Aloha Exchange Club's monthly meeting, however, due to the Covid-19 restrictions, no meetings have been held since March. Members of the Club recently met with Sergeant Pagan and HPD Administration Services staff to present him with the award.
All Officers selected for Officer of the Month are eligible to be selected as the East Hawaii Aloha Exchange Club's Officer of the Year.