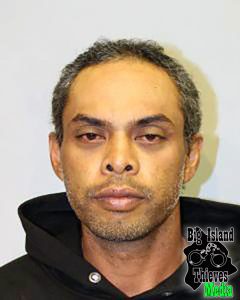 42-year-old Nathan Kalani Niihau has been arrested and charged with various property and drug-related offenses after he was located sleeping within a stolen truck in Hilo.  
On Tuesday, January 3, 2023, South Hilo patrol officers responded to a report of a suspicious vehicle parked on Nowelo Street, in Hilo. Responding officers located the vehicle, which was identified as a pick-up truck belonging to the State of Hawai'i. Niihau was located sleeping in the driver seat of the vehicle. He was arrested without incident and the vehicle was recovered pending execution of a search warrant.
During the course of the investigation, Area I Special Enforcement Unit personnel determined the State pick-up truck was reported stolen in a burglary on Tuesday, December 27, 2022, on Lanikaula Street, in Hilo. Upon execution of a search warrant on the vehicle, officers recovered 1.64 grams methamphetamine, .67 grams heroine, and stolen forms of identification from two separate individuals. Additionally, police were able to identify Niihau as the suspect to the Lanikaula Street burglary from where the truck was stolen.
On Wednesday, January 4, 2023, after conferring with the County Prosecutors Office, police charged Niihau with:
unauthorized control of a propelled vehicle (UCPV)
first-degree theft
second-degree burglary
two counts of third-degree promotion of a dangerous drug
two counts of unauthorized possession of confidential personal information
habitual property crime
His bail was set at $95,000.
Niihau remained in police custody pending his initial court appearance on Thursday afternoon, January 5, 2023.