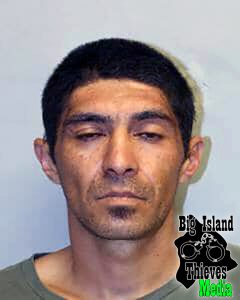 Prosecuting Attorney Kelden Waltjen announced that a Mountain View man, 34-year-old Richard Hauoli Kalani Subica, Jr. was apprehended by police after nearly four (4) years on the run.
Subica was wanted on both a December 2017 Hawai'i Paroling Authority warrant and an unrelated District Court non-appearance warrant.
Subica has five (5) prior felony convictions, including two convictions each of Ownership or Possession of Firearm Prohibited and Promoting a Dangerous Drug in the Third Degree, and a single conviction of Criminal Property Damage in the First Degree.
Subica's arrest was the result of a coordinated effort led by Detective Keith Simeona of the Area I Special Enforcement Unit and members of the Hawai'i Police Department's Area I and Area II VICE Sections, and the U.S. Marshals Service.
The Office of the Prosecuting Attorney remains dedicated to the pursuit of justice with integrity and commitment. Anyone having information to assist local law enforcement should call Crime Stoppers at (808) 961-8300 in East Hawai'i or (808) 329-8181 in West Hawai'i.#hawaiiprosecutors