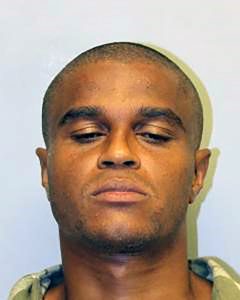 Hawai'i Island police arrested and charged 32-year-old Jerome Leader of Hilo with assault and unauthorized entry into a motor vehicle following a violent incident in downtown Hilo that left a man seriously injured on Thursday morning, November 2, 2023.
At about 11:08 a.m. Thursday, Hilo patrol officers responded to the area of Kilauea Avenue and Keawe Street after receiving a report of a man hit by a bat who was on the ground unconscious, bleeding from his face.
Upon arrival, officers identified the victim as a 71-year-old Hilo man, who was immediately transported by Hawai'i Fire Department medics to the Hilo Medical Center for treatment.
Witnesses reported observing Leader riding on the hood of the victim's vehicle on Keawe Street with the victim pulling into a parking lot. The victim was then seen in a verbal altercation with Leader, which led to the victim chasing Leader with a small baseball bat. Witnesses then observed Leader reaching into the victim's vehicle and run back towards Keawe Street with the victim pursuing him with the bat.
The victim gave up pursuing Leader and was walking back towards his vehicle when Leader ran towards the victim, shoving him full force in the back with both hands. The victim fell face first onto the cement sidewalk causing a laceration above his right eye. He remained motionless for several minutes and was tended to by witnesses until the arrival of police and fire personnel. Police determined the victim was not struck by the bat.
A witness provided police with a phone video of the assault, which resulted in identifying Leader, who police located and arrested at 12:10 p.m. in the canal off of Pauahi Street in the area of the soccer fields. He was then transported to the East Hawai'i Detention Center for booking, processing, and continued investigation.
The victim was later contacted at the Hilo Medical Center and stated that Leader jumped on the hood of his vehicle at the intersection of Ponohawai Street and Kilauea Avenue after Leader disregarded the no walking signal at the intersection. The victim's description of the assault matched that of witnesses.
The victim sustained substantial injuries to his face and spine and was transported to the Queen's Medical Center on Oahu for advanced treatment.
On Friday morning, November 3, after conferring with County Prosecutor's Office, detectives with the Area I Criminal Investigation Section charged Leader with the following offenses:
First-degree assault
Unauthorized entry into a motor vehicle
His bail was set at $35,000.
Leader is currently being held at the East Hawai'i Detention Center pending his initial court appearance scheduled for Monday, November 6, at Hilo District Court.
Anyone with information regarding this incident is asked to contact Detective Christopher Jelsma of the Area I Criminal Investigation Section, at (808) 961-2386 or at christopher.jelsma@hawaiicounty.gov. Tipsters who prefer to remain anonymous may call Crime Stoppers at (808) 961-8300 and may be eligible for a reward of up to $1,000. All Crime Stoppers information is kept confidential.