In the late 70's Saddle road was no where what it is like now. It was a single lane road slightly paved on each side of the road riddled with potholes that could easily take out your tire if you hit one. It was a long lonely road with very few travelers. You would only see a few cars on the travel over. Being a single lane road with blind hills and turns added with extream remoteness. Many accidents on this road lead to death. Many travelers of this road would see things on the travel over. One such travelers story went like this…
One late afternoon. A family of Japanese Tourist were looking to traverse the island from Kona to stay in Hilo. Seeing a road that cut through the island seemed the most logic path to reach Hilo the fastest being the day was slipping away. So they set out on a journey not knowing anything about Saddle Road.
As anyone traveling from Kona to Hilo knows. The sun light fades a lot faster when headed to Hilo. While coming over saddle they came upon a pig walking in the middle of the road came into their headlights. They slowed down and honked thier car horn to scare the pig out of the way. The pig continued to walking ahead of them. After a few attempts the pig moved to the side of the road. As they were about to drive past it. The driver rolled down his window to yell at the pig. As he yelling the pig turned and looked up at them. They all looked in shock and fear to see the pig had a the face of a man.
Quickly one of the tourist snapped a photo of the pig. And they drove off in a hurry in disbelief of what they had witnessed. When they reached their hotel Hilo. They told the desk clerk what they had witnessed. They asked where they could develope the pictures to show as proof of what they had seen. The next day the brought the pictures to the desk clerk at the hotel. Except where the face of man was. There was only a white blur. The desk clerk had told them the probably had an encounter with Kamapua'a who others have claimed to have seen along Saddle Road.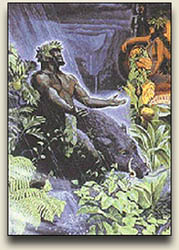 For the month of October. Bigislandthieves.com will be hosting a page dedicated to videos, pictures and stories of ghost and the unexplained that give us chicken skin.
Submit your stories with pictures and videos if applicable to thepaperclip@bigislandthieves.com and we will post it to our Chicken Skin Hawaii page on Bigislandthieves.com.